Since 1991, Attorney Paul Massa has helped thousands of clients have their Louisiana traffic and speeding tickets dismissed or reduced to a nonmoving violation that does not appear on their driving record.

My legal practice focuses on traffic and speeding tickets, along with DWI's and auto accidents throughout Louisiana.



Please fill out the FREE CONSULTATION FORM or call 504-975-6606 to start the simple process of retaining the legal experience of Louisiana traffic ticket lawyer Paul Massa for your traffic or speeding ticket. I will provide to you an immediate FREE quote for your consideration.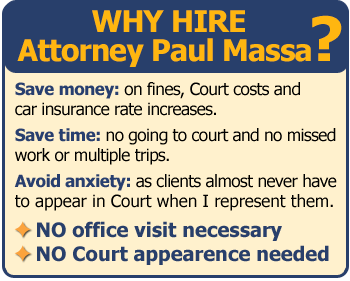 Louisiana traffic and speeding tickets should not be taken lightly. They can ruin an otherwise good driving record and raise your car insurance rate for years. When ignored entirely, that can be grounds for an arrest during your next traffic stop; inconvenient and expensive to say the least.
I prevent these avoidable consequences by representing clients in court to relieve them of these problems and the anxiety and aggravation that a day in traffic court can be.
Louisiana lawyer Paul Massa's law practice is dedicated to defending people accused of traffic tickets, speeding tickets, hit and run investigations, DPS license suspension or revocation proceedings, and DWI's, driving while license suspended, CDL's occupational driver's licenses and other municipal and state traffic, car and semi-truck cases.
If you or a loved one has been issued a Louisiana traffic summons or speeding ticket, it is essential for you to have competent traffic ticket legal representation to protect your rights and your driving record.
Louisiana traffic and speeding ticket attorney Paul Massa provides high quality, experienced and affordable ticket defense representation. Paul defends persons accused of all types of traffic offenses, from any state and in all cities, parishes and courts in Louisiana.
In most traffic and speeding violation cases, there is no need for unnecessary meetings at my office or even the need for you to appear in court for your hearing. Simply use the free consultation form on this website to submit your Louisiana traffic or speeding ticket information. I do all the work and appear on your behalf. It's that simple.
Questions? Please watch our short video on the easy process of submitting your traffic ticket for a free case review.